REAL ESTATE MARKET UPDATE
2019, A YEAR IN REVIEW
---
What a year for local real estate! Prices went up, Buyer confidence is up, and Montecito is back! I have been tracking local real estate prices for nearly 20 years. During this cycle, home values have consistently increased since bottoming out in 2012, and this past year, average and median prices reached roughly the same levels we saw in 2007.

---
SOUTH SANTA BARBARA COUNTY
---
Comparing 2019 statistics to the previous year, South Santa Barbara County (Goleta through Carpinteria) experienced climbing sales & prices. Inventory remained tight: number of new listings fell 7% to 2,390. Number of sales grew 6% to 1,735 as did number of escrows, rising 5% to 1,766. In fact, in December alone there were 191 sales (the last time we saw that many sales during the winter was in 2012). Average sales price saw double-digit gains, climbing 17% to $1,652,015 and median sales price rose 8% above the million-dollar mark, to $1,074,424. Sold volume shot up 24% to approximately $2.87 billion in sales. Listings are turning over faster than we've seen in years with cumulative days on market (CDOM) averaging 49 days compared to 77 days in 2018. And on average, properties are selling for closer to their asking price, at 94%, up 2% from last year.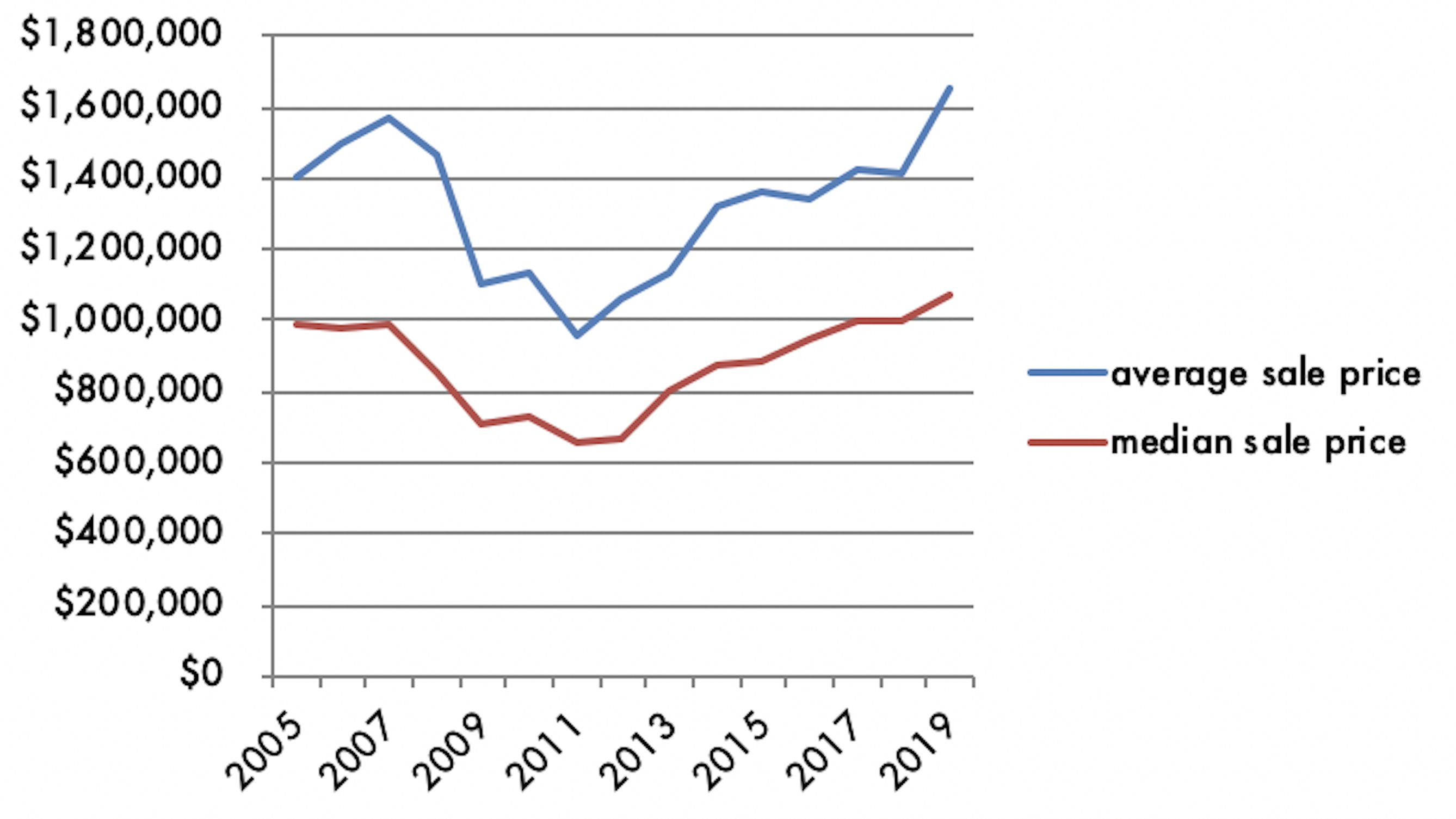 ---
LUXURY MARKET
---
The luxury market along the Santa Barbara coast was significantly more buoyant than the previous year. There were twice as many properties sold over $5million than in 2018 (80 to be exact)! And the ultra-high-end outperformed 2018 figures with 22 sales above $10million, 7 more than the previous year. Beach transactions led that market, with 11 oceanfront or bluff top sales. The rest were comprised of Montecito view properties and Hope Ranch estates.
---
LOCALLY
---
Locally, overall the real estate market appears healthy with some slight pockets of decline. The market share belongs to the real estate experts who work hard. These are the professionals who will continue to show the value that a committed, knowledgeable and caring team brings to a transaction. My team and I are grateful for your business in 2019, where we helped 37 buyers and sellers to close over $108 million in sales. If we can be of service to you, call us anytime at 805-565-4014 or email at associates@marshakotlyar.com. Stay tuned for our next quarterly real estate review in April, where we'll summarize the 1st quarter 2020 statistics.