---
MONTECITO
---
The 1st Quarter of 2021 has come to an end. The results are obvious. Montecito has never seen a market like this.
Montecito smashed all previous Q1 records with 95 sales, a 98% increase from last year. The average price jumped 94% and the median price is up a staggering 61%. Lack of inventory coupled with the number of high-end sales is responsible for this rise in prices.
The luxury market was the hottest we have ever seen, with a record-breaking 15 sales over $10 million during Q1. Time on the market has also been slashed. In Montecito, the average property spent 95 days on the market compared to 152 during Q1 2020. On average, listings sold at 98% of their asking price, up 7% compared to this time last year. In fact, there were 22 listings that sold over asking in Montecito during Q1.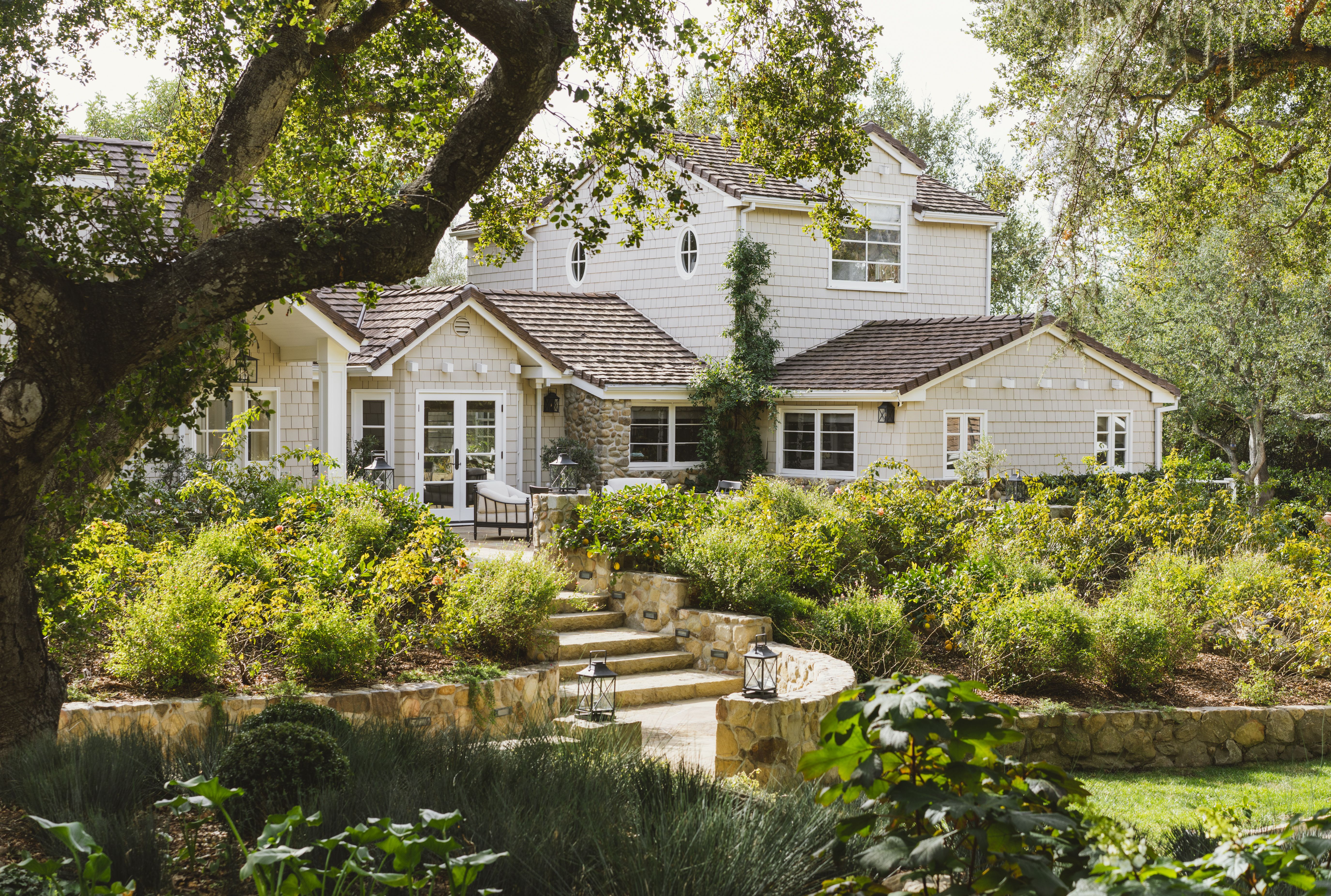 MONTECITO Q1 2021 AT A GLANCE...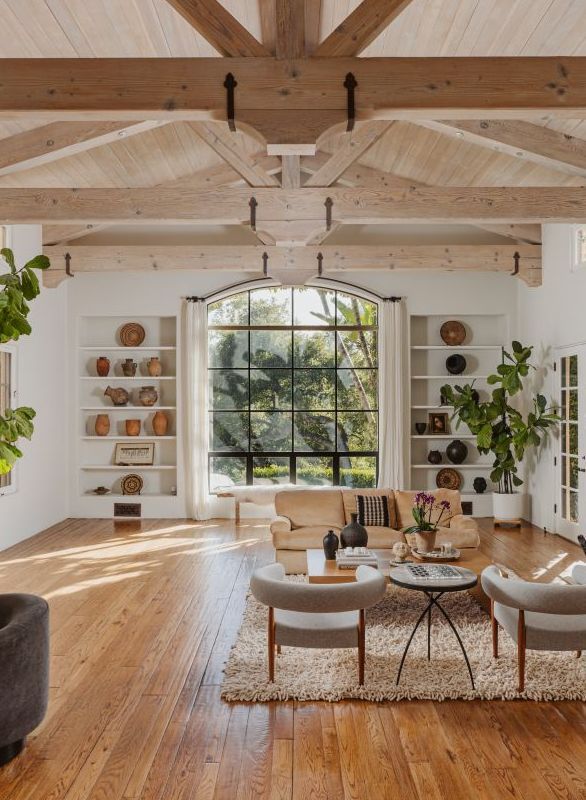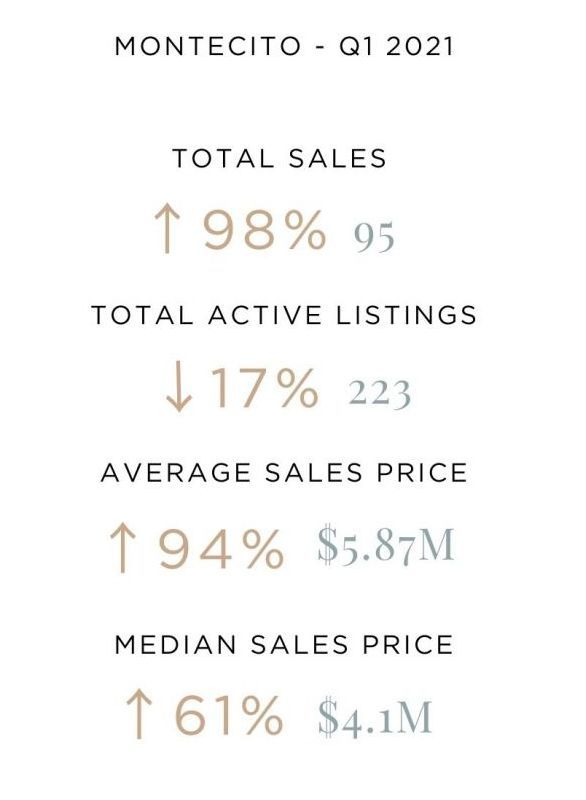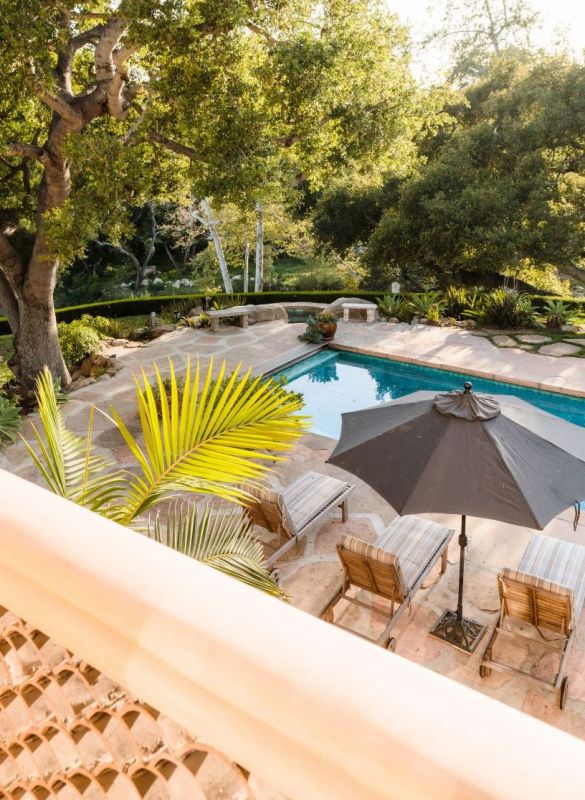 *statistics are pulled from the SBMLS

---
SOUTH SANTA BARBARA COUNTY
---
In South Santa Barbara County, the inventory shortage and buying boom was backed by several over-asking offers, all contributing to the rising prices.
When the number of active listings drops 16%, but the number of sales jumps 40%, there is an undeniable supply issue. Total sold volume shot up 138%, the average price jumped 71%, and the median price grew by 33%. The highest sale in South SB County was on the sand, at 1655 Fernald Point Lane, closing off-market for $45 million.
SOUTH COUNTY SANTA BARBARA Q1 2021 AT A GLANCE...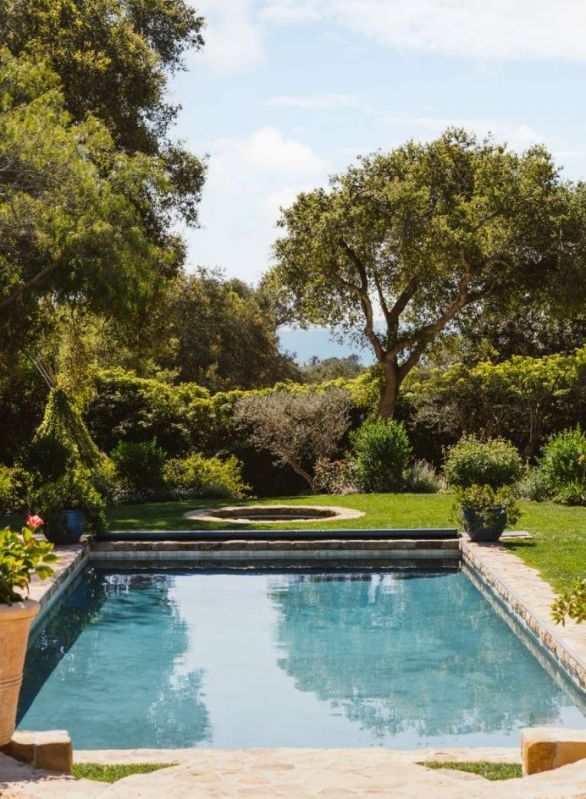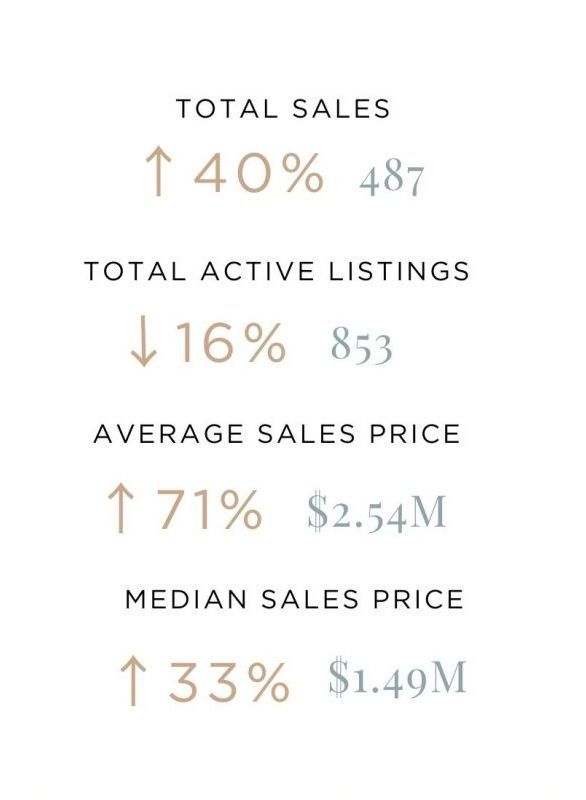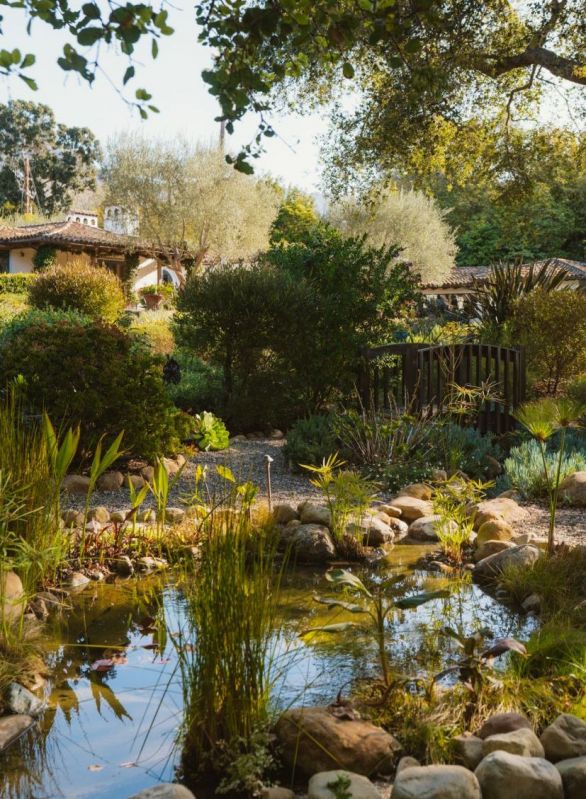 *statistics are pulled from the SBMLS
---
HOPE RANCH
---
In Hope Ranch, both the number of sales and total sold volume quadrupled in Q1 2021, compared to last year. Inventory fell 16%, while the average price grew 16%. The median price rose 3%, hovering roughly at the same level as Montecito's median price, at $4 million.

HOPE RANCH Q1 2021 AT A GLANCE...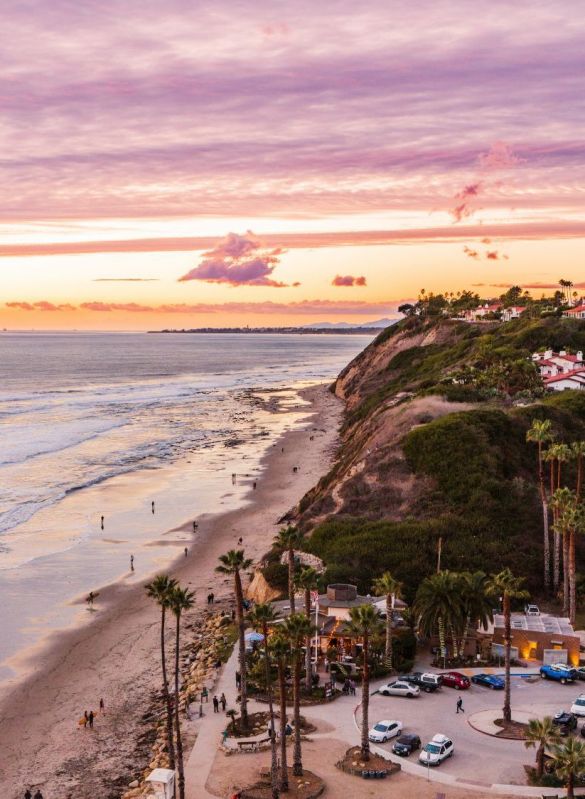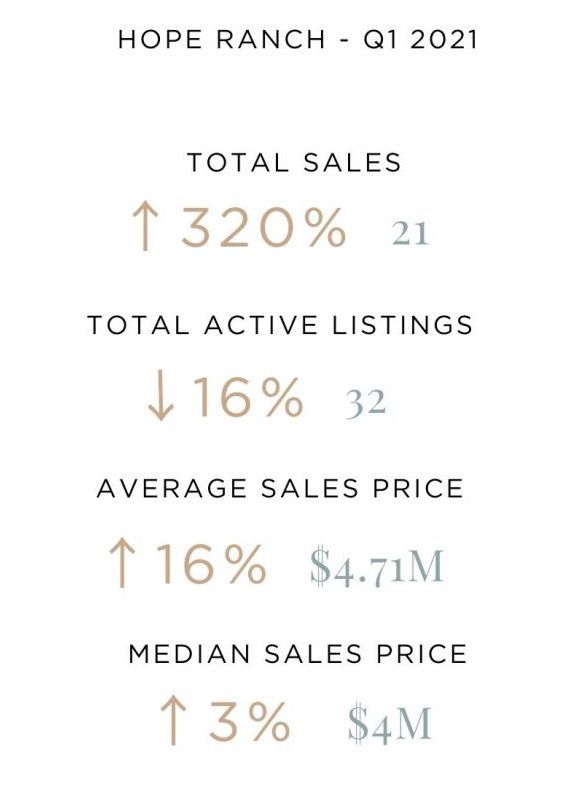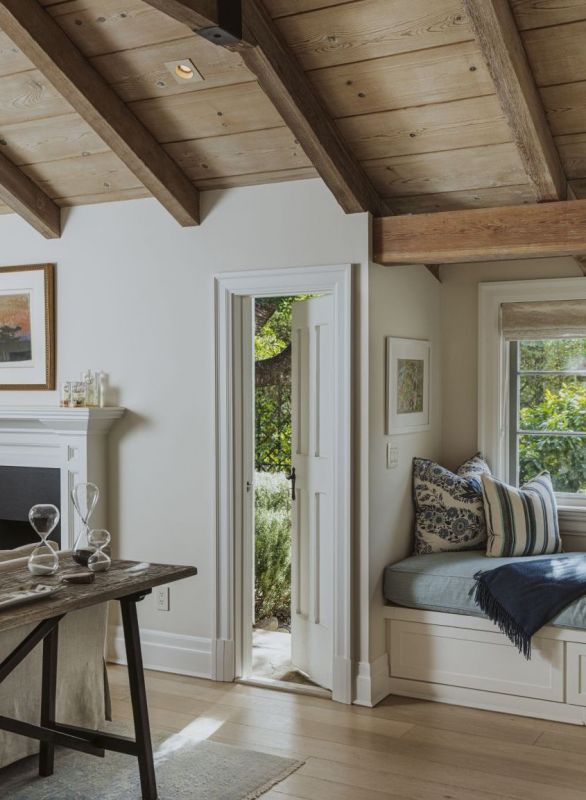 *statistics are pulled from the SBMLS

---
NATIONALLY
---
Nationally, lack of housing selection contributed to prices rising 17.2% over last year. While interest rates are projected to remain low, lending standards remain tight, making it hard to buy a property one cannot afford. More people seem willing and able to move with increasing vaccinations, and so we hope inventory improves this Spring & Summer. While no one knows how long these trends will continue, the demand for quaint and safe communities means this strong seller's market will likely carry throughout 2021 into our local market.

---
MAJOR Q1 REAL ESTATE TRENDS
---
+ Demand superseded Supply
+ Pocket listing market is in full swing
+ Record-breaking number of sales in the high-end market
There is a looming concern over available insurance for high fire areas in Santa Barbara County and some buyers are even opting to self-insure. Pocket listings are in full swing with a large portion of homes that closed off-market during Q1. In fact, half of our sales in 2021 have been off-market - proving that in this challenging market you need an agent with experience, solid connections, and a strong work ethic. Stay tuned for our next market update to see how Q2 2021 unfolds.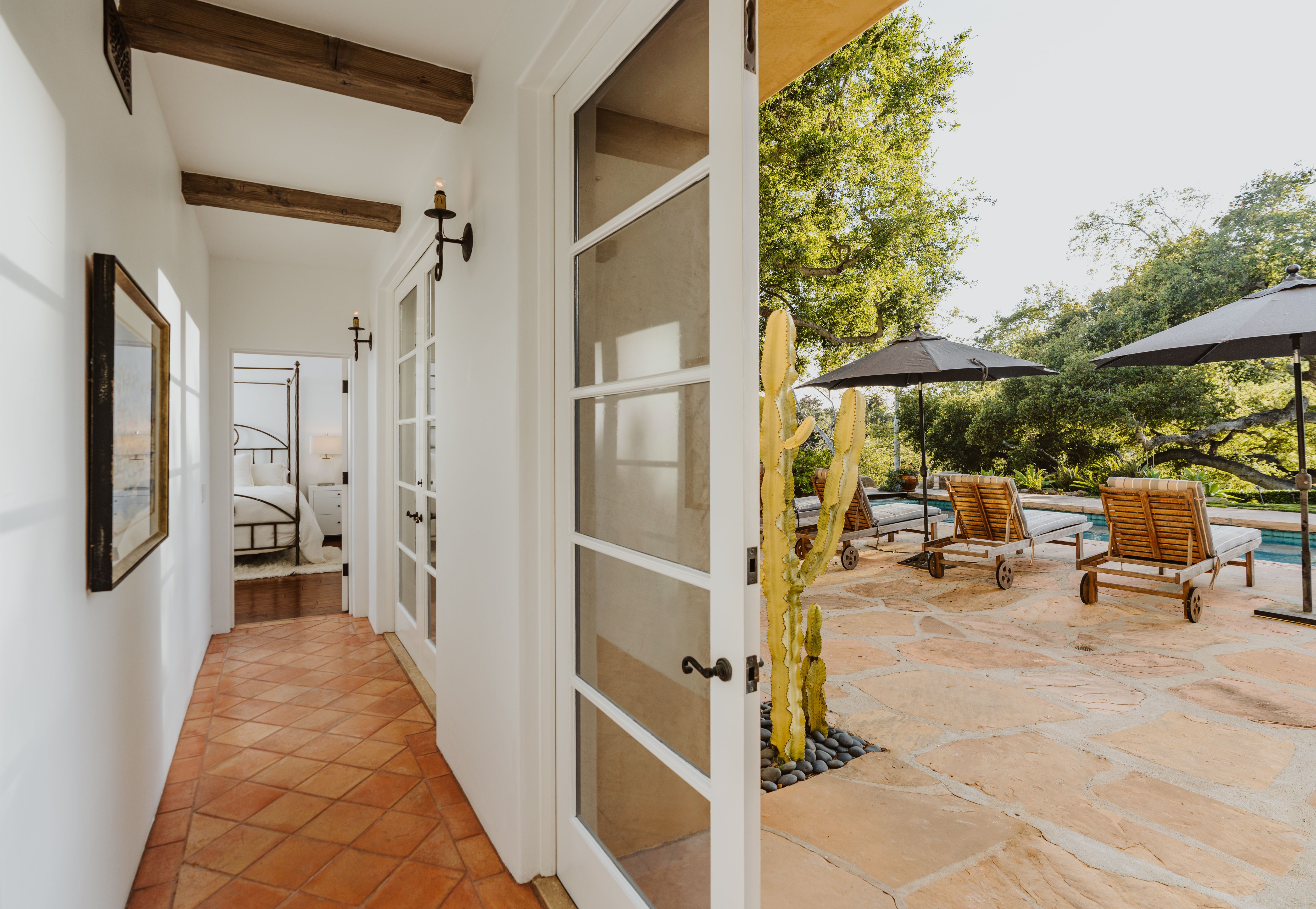 If you're thinking of making a change, let's get together to determine if you're ready to make your move. Call 805-565-4014 or email Home@MKGroupMontecito.com for a complimentary consultation. All calls are confidential.