When comparing the 3rd quarter 2017 statistics to the same time last year, the local real estate market experienced an overall decline in selection, bump in sales, thereby driving prices up.
South Santa Barbara County saw inventory decline 9% with 622 new listings coming on the market in the third quarter. Sales activity picked up: the number of sales grew 4% to 473, as did the number of listings going under contract, which rose 8% to 493. The average sales price increased 6%, to $1,410,041 as did the median sales price, which rose 3%, to $989,00. Consequently, sold volume shot up 10% to $666,949,452. On average, South Santa Barbara County properties sold at 95% of their asking price, holding steady from last year. Average time on the market fell: the cumulative days on the market was 62 this quarter, compared to 67 days the previous year. The high-end outperformed last year, with 17 sales that closed over $5 million, compared to 15 sales last summer.
The Montecito market showed sizable gains over last Summer's statistics. Inventory grew 3% to 97 new listings. Sales rose 3%, to 61 closed transactions. With more high-end sales closing, sold volume rose 25% to $210,830,514. Also, Montecito prices grew more than any other area locally. The median price shot up 49% to $3,325,000 and the average price increased 21% to $3,465,238. On average, listings in Montecito sold at 91% of their asking price, up just 1% over last year. Cumulative days on the market also fell in Montecito, currently averaging 119 days, compared to 143 the previous year. The number of listings that went under contract shot up 9% to 61 pending transaction. The Montecito market continues to build on the momentum earned during the third quarter and I expect to see a strong finish in the 4th quarter.
The Hope Ranch numbers were somewhat deflated this summer. Inventory levels grew more than any other area locally, rising 46% to 19 new listings. However, despite a better selection of properties for sale, there were only 4 sales. Out of those sales, the average price grew 14% to $3,527,000 as did the median price, which grew 7% to $2,550,000. Sold volume slipped 9% to $14,108,000 and 6 listings in Hope Ranch went under contract during the 3rd quarter, compared to 5 the previous year. Listings in Hope Ranch sold at 93% of their asking price, compared to 95% last year. Cumulative days on the market grew substantially over last year, averaging 176 days, up from 70 days the previous year. There are several high-end properties currently pending in Hope Ranch, so we should see the sales prices go back up, once they close escrow in the 4th quarter.
Nationally, real estate prices continue improving. Interest rates remain at historic lows below 4%, unemployment rates are dropping, and the stock market is trading at an all time high. However, the shortage of inventory is hampering sales activity and placing upward pressure on pricing in many parts of the country. In California, economic forecasters predict home price will continue to increase, but at an even slower pace in the coming year. Locally, I expect to see a strong finish in the 4th quarter 2017, launching us into a solid start to the New Year.

Stay tuned for my next quarterly update in January where I will summarize the 2017 local real estate market. The weather couldn't be any nicer, making Fall a wonderful time to list your property. If you have been curious about the value of your home, give us a call.
Sincerely,
Marsha Kotlyar
South Santa Barbara County
Average Sales Price and Median Sales Price in the past two years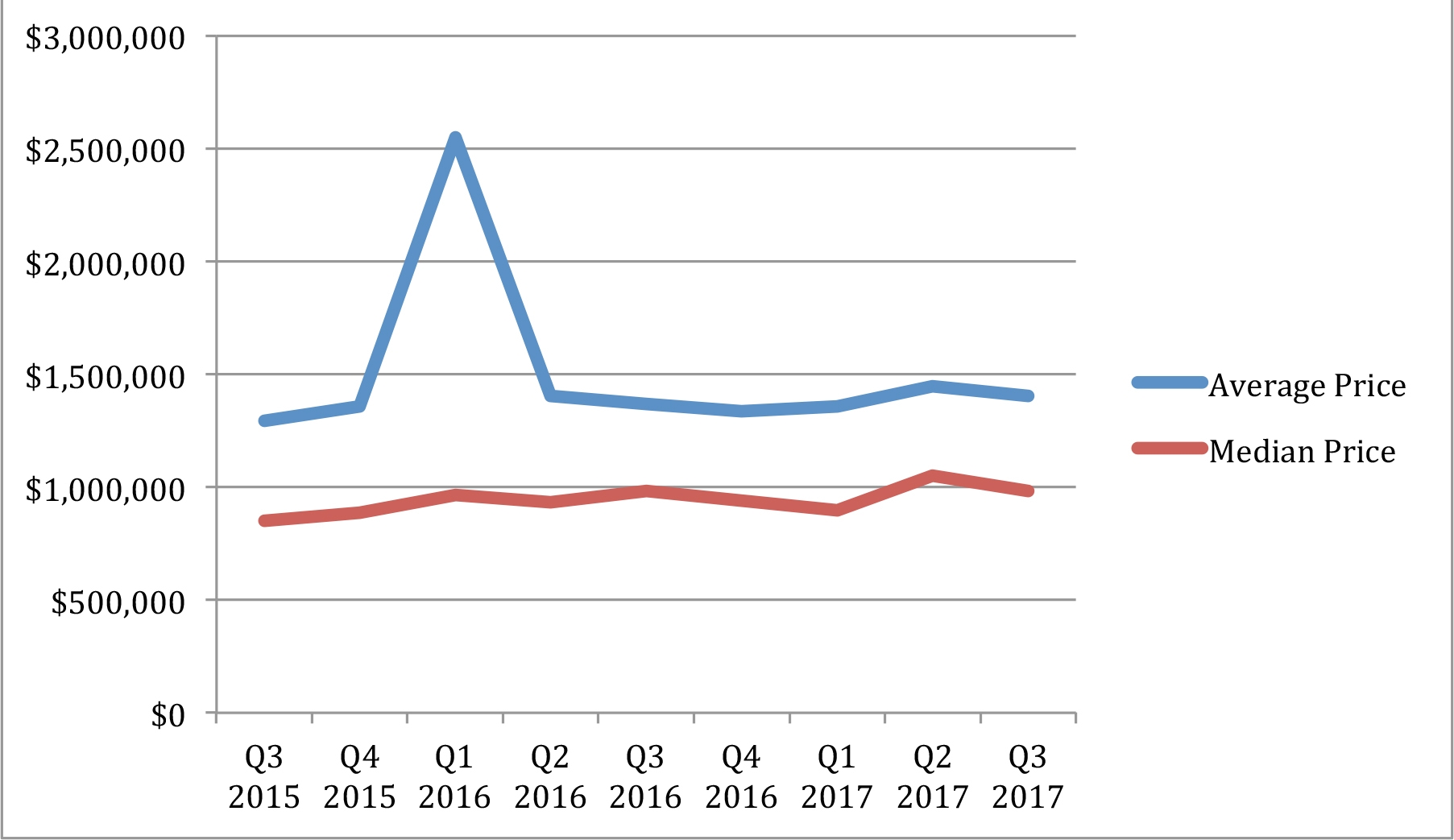 Montecito
Average Sales Price and Median Sales Price in the past two years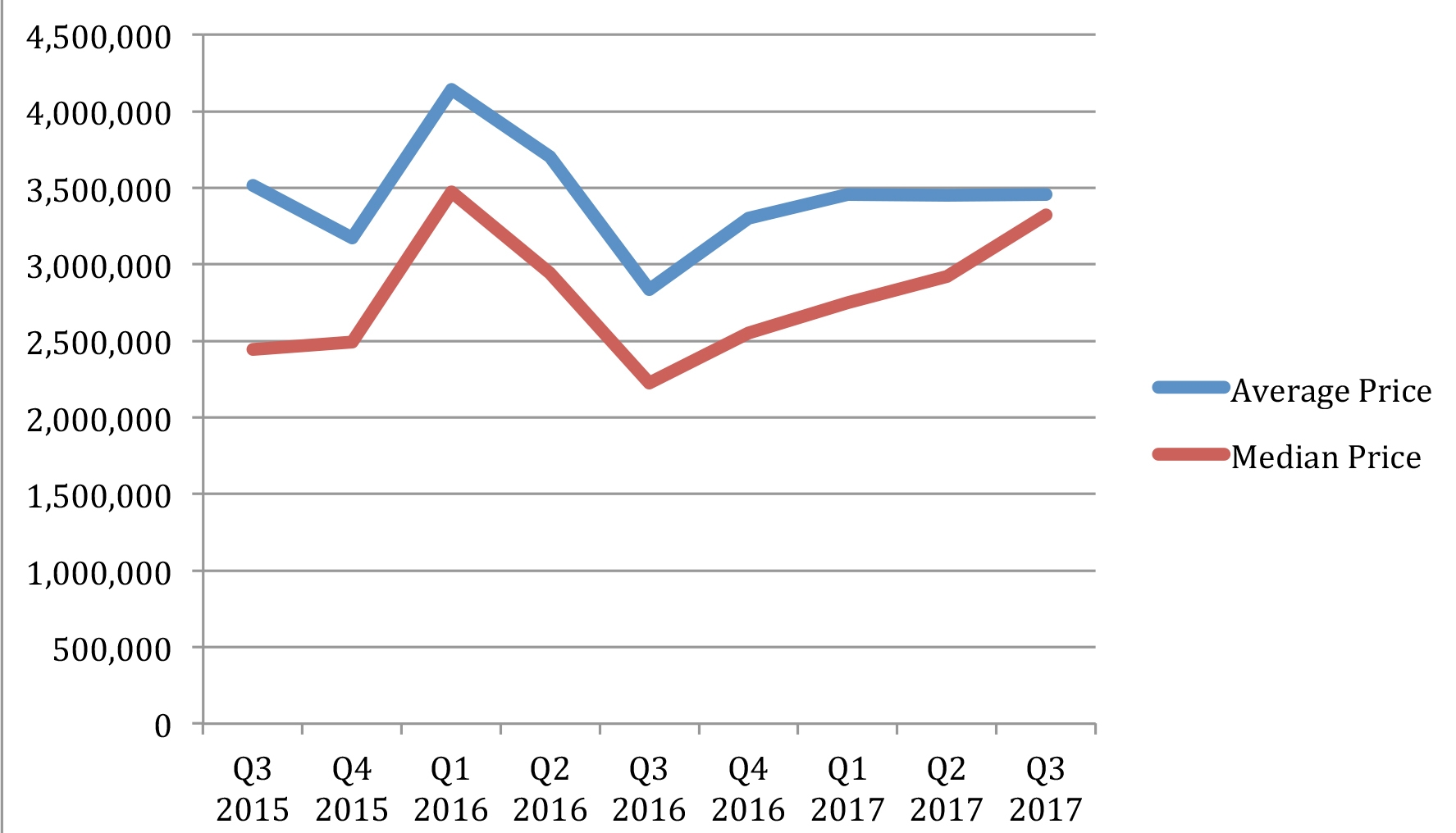 Hope Ranch
Average Sales Price and Median Sales Price in the past two years