A MESSAGE TO OUR VALUED CLIENTS, FRIENDS & FAMILY:

First and foremost, we hope you are taking all the appropriate precautions to protect your health and well-being. Normally this time of year, we're reporting on the first Quarter statistics, but now we're finding ourselves in a situation that none of us could have imagined. Locally, we've had our recent fare share of challenges with the mudflow event just 2 years ago. Through those challenging times, we rallied, came together & rebounded beyond everyone's expectations. Our community has never been stronger!
Short-term economic turmoil aside, our goal is to stay in touch with you on a regular basis during these unusual times to put out messages that are
factual
and
relevant
. We are here, available and are hands-on-deck every day. If you want to discuss market conditions, recent activity, or just what's happening, please call or email us!
Now more than ever, we are reaffirmed that our home is truly our haven. Everything happening recently has only strengthened the importance of "home" and has reminded us of what our team stands for: providing honest, reliable real estate advice and helping our clients find their own haven in this community. We are also strong advocates of seeking opportunity and optimism when others panic.
Many of you are wondering what impact this pandemic will have on the real estate market. Consider this research piece from Zillow.
https://www.zillow.com/research/pandemic-literature-review-26643/
Nationally, the market today is vastly different from that of 2008 (when housing was a key factor that triggered a recession). Economists have been forecasting a 2020 recession for some time now, but a recession does not necessarily mean we will have a housing crisis. Looking at the past 5 recessions in U.S. history, home values actually appreciated in 3 of them, by 3.5%, 6.1%, and 6.6%. The other dip was not as severe, dropping just 2%. See chart on the right from Keeping Current Matters. We are confident that, while we don't yet know the exact impact this virus will have on the housing market, we do know that housing isn't the driver. https://www.keepingcurrentmatters.com/article/how-will-the-next-recession-affect-the-housing-market/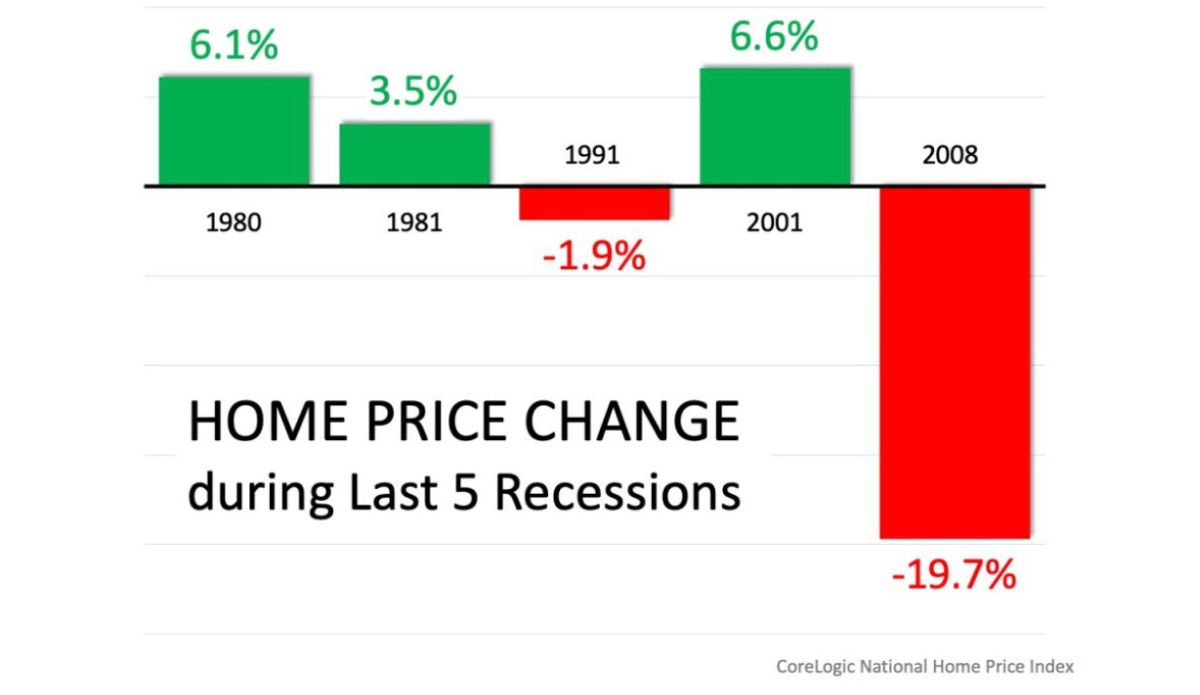 Locally, as of last Friday, March 20, the California Association of Realtors recommended that we cease all non-essential real estate activities, which includes open houses and non-essential showings. Because it's hard to sell homes without actually seeing them, we don't anticipate having any real meaningful activity until those orders are lifted. Prior to that announcement, many people had already adopted the "stay at home" philosophy for several weeks. Despite that, our market (South SB County) experienced the following activity across all price ranges:

# of new listing: 42
# of closed listings: 32
# of pending listings: 30
# of back on the market listings: 24
# of canceled or withdrawn listings: 31

We don't have a crystal ball & we don't know what's to come. But one thing is for certain: we will recover from this. Santa Barbara will always be a desirable place to live, and local real estate will always be a terrific sound long-term investment.

Things are changing rapidly and we're watching things closely as they unfold. We are here for you, through every stage, and we're in this together. Remember to be good to yourselves and your loved ones.

Sending our very best,
Marsha, Patrice, Allie, & Mia